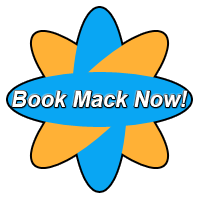 Mack Dryden is quite simply one of the most powerful motivational speakers and stand up comedians working today, as evidenced by the raves heaped on him by his hundreds of thrilled clients.
"Awesome! The best we've ever had!" is a common sentiment, and one summed up his group's delight with, "Mack just might be the best clean comedian money can buy!" And this despite overcoming daunting adversity (see "About Mack") to appear in several movies, hundreds of TV shows and perform on five continents.
If you're looking for a speaker or comedian that your group will be quoting and talking about for years, you won't find a more inspiring and hilarious performer than Mack Dryden.