Descriptions of my books and videos are below, but I've also got some Fun Freebies you can grab. Just scroll down and you'll see the Freebie button.
Paperback: Fluffing the Concrete–How to Make the Most of Foreign Prison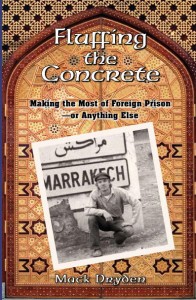 "I was led in chains to an African prison cell when I was 24 years old. On a soul-chilling night when many young men my age were cuddling with their wives or girlfriends, I was lying on an icy concrete floor, spooning with a Moroccan thug to avoid freezing to death."
So begins the harrowing, fascinating, exotic, and often hilarious memoir of Mack's incarceration in a Third World country for a crime that could have resulted in a life sentence. Happily, it didn't, but the tale of how he was secretly swallowed up by the justice system in a country ruled by a king and where the Bill of Rights doesn't apply is a heart-in-your-throat page-turner. Still, his unique sense of humor shines through on every page, even as he tells of rats crawling inside prisoners' clothing and surviving on what he called "goat-butt soup." Fluffing the Concrete: Making the Most of Foreign Prison–Or Anything Else is a powerful, memorable, entertaining read you'll want to share with others.
Get a paperback copy personally autographed to you for only $12.00 with free shipping.
Get the eBook (PDF) for only $8 and have it delivered to your inbox RIGHT NOW!

---
VIDEO DOWNLOAD: Laugh to the Top
Corporations pay Mack thousands to deliver his most popular keynote, Laugh to the Top: A Hilarious Guide to Achieving Your Goals, but you can enjoy it in the comfort of your living room. Order your very own personally autographed DVD copy for $15.00, free shipping.
Watch an excerpt from Laugh to the Top
---
Paperback: "Does This Book Make My Head Look Fat?"
Rib-splitting humor by one of America's funniest writers. As former Saturday Night Live head writer David Sheffield put it, "The ability to make people laugh out loud at a printed page is a special, almost mystical gift, and Mack does it to me every time. He's hilarious."
As a comedian, Mack has performed on legendary stages from Vegas to Tahoe, on dozens of TV shows and several movies. As a writer, he was handpicked by Bill Maher for the writing staff of ABC's Politically Incorrect and wrote hundreds of bits for Premiere Radio Networks. His newspaper column, "Dryden, Ink," won "Best Humor Column' in a recent Midwest journalism competition. This collection of columns, radio and TV bits, cartoons and rib-tickling tidbits is proof positive that it's still possible to LOL at the printed page.
Get a paperback copy personally autographed to you for only $14.00 with free shipping.
Get the eBook (PDF) for only $8 and have it delivered to your inbox RIGHT NOW!

---
VIDEO DOWNLOAD: "Never Do Potluck with a Cannibal"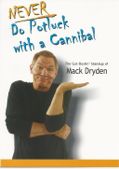 Sit back, relax, and enjoy an hour of absolutely hilarious, clean standup comedy from a man who performed in a number of movies and on dozens of TV shows, including several appearances on The Tonight Show, and 125 episodes of the syndicated show "Comedy Break with Mack & Jamie" where he did sketch comedy with some of the top funny people in the business.On this video, Mack brings all the talent, power and hilarity he's gathered in three decades of performing. Order a Download Card for $12.00, free shipping, and Mack will throw in a personal note with a Thank You card.
---

---
VIDEO DOWNLOAD: "Learn on the Fast Track"

Do you have a burning desire to become a better public speaker or even go pro? Why not learn from one of the top speakers working today? Mack has packed all the facts, tips and techniques you need into a video that includes BOTH of the eBooks shown here, all for less than the price of lunch. Avoid the embarrassing mistakes and setbacks most beginners struggle through, and learn proven methods and shortcuts that will put you on the Fast Track to being a fantastic speaker.
NASRM DOWNLOAD