It's tough to be an effective leader if you don't know how to properly communicate with your team. That doesn't just mean giving instructions and criticism either, it means making yourself available to listen to and address employee concerns and ideas too—as the saying goes, you've got twice as many ears as tongues for a reason.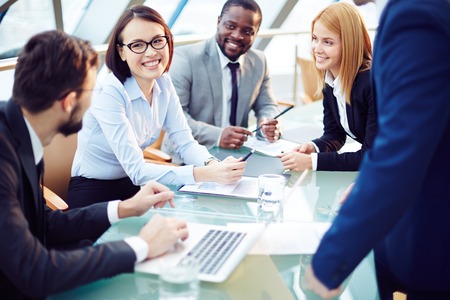 In my last blog post, I went over the ways poor office communication can be deadly to the success of your business. But what's the point of having that knowledge if you don't also know how to foster good communication with your employees? Here are a few tips to get you started!
1) Communicate constantly.
Annual reviews just don't cut it anymore when it comes to providing employees the opportunity to voice their thoughts. You need to ensure your employees know you're always open to giving and receiving feedback.
Set up monthly one-on-ones to stay in touch with your team and let them know that what they think and how they feel matters. If you jot a couple things down when they're fresh on your mind, your employee will be stunned when you ask at the next meeting how her son is doing at State!
You should also provide an anonymous platform, such as a suggestion box or online form, where employees can comfortably offer feedback at any time.
2) Let employees know you're listening.
As a leader, you should present yourself as open and approachable to your employees and allow them the space they need to communicate with you honestly. This means giving them your undivided attention and learning how to listen effectively.
When you meet with an employee, be aware of your body language. Maintain eye contact, leave your arms uncrossed, and ditch any distractions that could make them feel like you're not truly listening (emails, phones, etc.). Make an effort not to monopolize the conversation and repeat what someone tells you, to assure them you're on the same page.
3) Invest in team building.
Encourage communication among and with employees by putting in the effort to plan team building events and exercises. Icebreaker games are a great, simple way to get to know each other and build relationships. A fun corporate event, such as a party, outing, or retreat, is will also help establish a friendly company culture that's open to the flow of communication.
Another surefire way to inspire employees and help cultivate a positive relationship ideal for open communication? Bring in a motivational speaker!
For decades, I've used comedy and public speaking to engage employees and benefit corporations by providing a unique, shared experience to bring their team together. I've even got a presentation called "Humor in the Workplace", that offers dozens of tips on how to make your office a more fun environment—and you don't even have to be funny.
Contact me today to learn more about how I can help you create a fun, rewarding, communication-friendly atmosphere for your employees!